A  Most Desirable Community in Idaho and America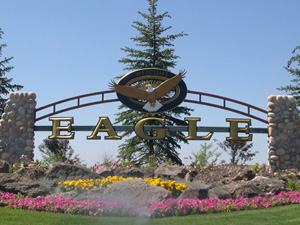 What makes Eagle Idaho so desirable in the Pacific Northwest is its unique combination of upscale community nestled along the base of the Boise foothills and river valley. In additional, it has unparalleled access to mountain recreation weather it skiing or summer lake activities, from river rafting to mountain resorts within a 2 hour drive.  Eagle, the community provides quality-crafted homes, a bevy of wonderful restaurants, boutique shopping, not to mention a very friendly community.
A River Runs Though Eagle
The Boise river winds through Eagle and provides a rich array of walking paths through the  greenbelt,  Often you may find people enjoying a picnic along the banks.  Fishing is common along the Boise River, and as well as a nice place to cool down during a warm summers day.  Eagle residents can be found riding horseback in the north hills, visiting the Eagle Island State Park, biking the trails of the Eagle Foothills BMX and Cross Country tracks at the Eagle Velodrome Bike Park.
Eagle Location and Businesses
Eagle is situated eight miles west of Idaho's capital city.  It is home to about 25,000 residence.  Eagle's businesses  range from a diverse selection of restaurants to health and wellness clinics and spas and to global hi tech and online firms.  Although the gem of the area may be the many wineries located around the area!
Notable Events and Places to Visit in Eagle:
the Boise River
the  state-of-the-art skateboard park
Heritage Park
Old Town Eagle
The Eagle Fun Days Festival
the Eagle Saturday Markets
Selected Eagle Resources:
Recent Reviews on the Metro Boise Area
Boise ranks fourth on top ten list of best places to live – "To hit the thriving local arts scene, cruise downtown. Boise's free "Alive After Five" concert series brings musicians and other entertainers to the Grove Plaza each Wednesday during the summer." | US News, June 2009

Boise makes the grade. Recognized as a top ten city for business and careers – "For the fourth straight year, Boise landed in the top 5 in what may be the most prestigious of city rankings compiled by national business magazines. A high Forbes ranking provides a marketing tool for state and local business recruiters like the Idaho Commerce Department and the Boise Valley Economic Partnership." | Forbes, March 2009
Boise ranked the best overall town in the Western United States – "Boise, to put it mildly, has been on a roll. Government, education, and health care remain core industries, but dozens of high-tech startups have moved to town, joining behemoths like Hewlett-Packard and Micron Technology." | Outside Magazine, August 2010
Boise cited as the sixth best city in the United States for business – "It's four seasons here but it's not arduous weather. Boise has a diverse economy, and has proven to be an incubator for entrepreneurs, as evidenced by its high concentration of Russell 2000 companies." | MarketWatch.com, December 2009
Boise recognized as one of the top ten cities in the West – "It's a high-tech center, one of the best places in the country to start a business. And the great skiing at Bogus Basin doesn't hurt." | Life Magazine, June 2010